Gaming industry is one of the most profitable ones in the world of digital entertainments. According to the research by NewZoo, by 2021 users will spend $180 billion a year on games. The leading gaming companies always compete for the attention of users and the dominant position in the very profitable market. They equip themselves with various tools and innovative technologies to stay competitive.
Blockchain is yet another technology that gaming industry is very interested in. It can be used for the development of decentralized solutions for secure storing and processing of data. And let's not forget about cryptocurrency, which offers advantages both for gamers and game developers.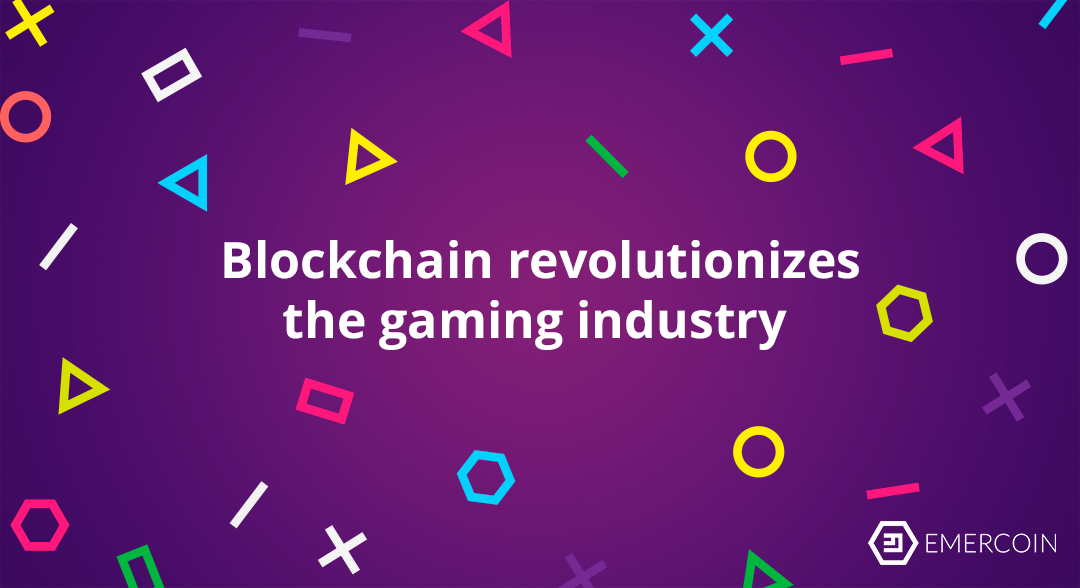 Cryptocurrency as gaming currency
Cryptocurrency might bring the most noticeable change into the gaming world. Today the vast majority of games utilize in-game currency for buying of different artifacts, upgrade of game characters, purchase of new abilities and other improvements. Users buy it for fiat money, which entails a commission and a rather complicated process of account replenishment. Cryptocurrency will make transactions faster. It can be used not only in one game, but to provide support for inter-game functions. All transactions are reliable, transparent and provide a high level of trust. The successful use of cryptocurrency is also possible in online casinos. Till this day, many game cryptocurrencies have been created, including the most famous GameCredits (GAME), Chimaera (CHI), Enjin (Enjin Coin), Ethbet (EBET), FirstBlood (1ST), MobileGo (MGO) and many others.
Copyright protection
Blockchain technology can be effectively used for copyright protection. Such solutions have great potential and are suitable for copyright protection of any digital content, including games, movies, music and much more. Emercoin platform offers EmerDPO that can be used for protection of digital content from theft. In the case of gaming industry, all information necessary for user identification may be stored in blockchain, so only users who have paid for content can access it. Blockchain with the digital time stamp prevent any unauthorized changes and also allows to detect copying.
Decentralized technologies can also be used to prove ownership of in-game purchases.
Crypto-backed stakes
ESport is another area, which may benefit from cryptocurrency. The estimated market value is expected to grow to $1.5 billion by 2020. There has been an increase in the popularity of competitions in online gaming. Companies create platforms for betting and collection of funds for winners rewards.
The use of cryptocurrency might make such a business and operations open and transparent. Users would be able to put stakes and receive guaranteed rewards.
Protection of users' data
Gaming platforms, like other online services, store and process data of users. After the GDPR has come into force, all companies that operate in the European Union have to solve a new problem. Now it is not enough to store data; you must ensure a high level of its protection or lose 20 million euros or 4% of annual turnover in case of regulations violation.
The gaming industry is an attractive target for hackers since it unites more than 2.3 billion users all over the world. And his number will grow to 2,7 billion by 2021. And gaming companies store the data of all these users.
One of the biggest scandals associated with data theft occurred in 2011. Sony was subject to a massive cyber attack, which resulted in the theft of data of 77 million users of PlayStation Network, including their names, birth dates, addresses, email, and authorization data. As a result of the servers shutdown Sony lost $171 million.
Blockchain is a great platform for data management systems. Together with its partner Emercoin is working on creation of data management system, which is GDPR compliant. A company using it won't be held responsible for data protection. By combining PoW and PoS algorithms, the blockchain is highly secure and the chance of hacking, and data leakage is minimized.
Master password
There are dozens of admins at gamedev companies who access the system using an account and password, which determine access rights. The SSH protocol is used for the ease of Public Key Infrastructure (PKI) and Access Control List (ACL) management. However, it is difficult to support such systems and revoke compromised certificates.
The use of master passwords allows game companies to manage keys with high a level of access: create and reassign admins, manage their access keys, quickly revoke them, etc. EmerSSH is designed for PKI and ACL infrastructures management. Built on Emercoin blockchain, it offers all the benefits of decentralized solutions and provides secure management of SSH certificates.
Creation of unique bonuses and subscriptions
While using blockchain, gamedev companies will be able to create unique bonuses and subscriptions. Truly unique and one-of-a-kind collections of objects, artifacts, and other improvements can be stored on the blockchain. It protects them from reproduction, as well as allows connecting and disconnecting them from user accounts. At the same time, users can buy and sell unique artefacts of special value. As you might know, the most expensive such purchase was made in Entropia Universe game – a user bought virtual real estate for $2.5 million.
Blockchain technologies have already proved their versatility because they are used in many areas. Some projects on blockchain already exist in the gaming industry, and many are still under development. The development of solutions on Emercoin blockchain is more cost-saving than the creation of them on Ethereum. Moreover, the solutions developed on Emercoin blockchain are distinguished by a higher level of security as compared to similar solutions on Bitcoin blockchain.