Hurify Digital Markets, Inc is pleased to announce that the company has signed licensing agreement with Emercoin Technologies to explore the use of Emercoin Blockchain solutions for Hurify IoT Marketplace.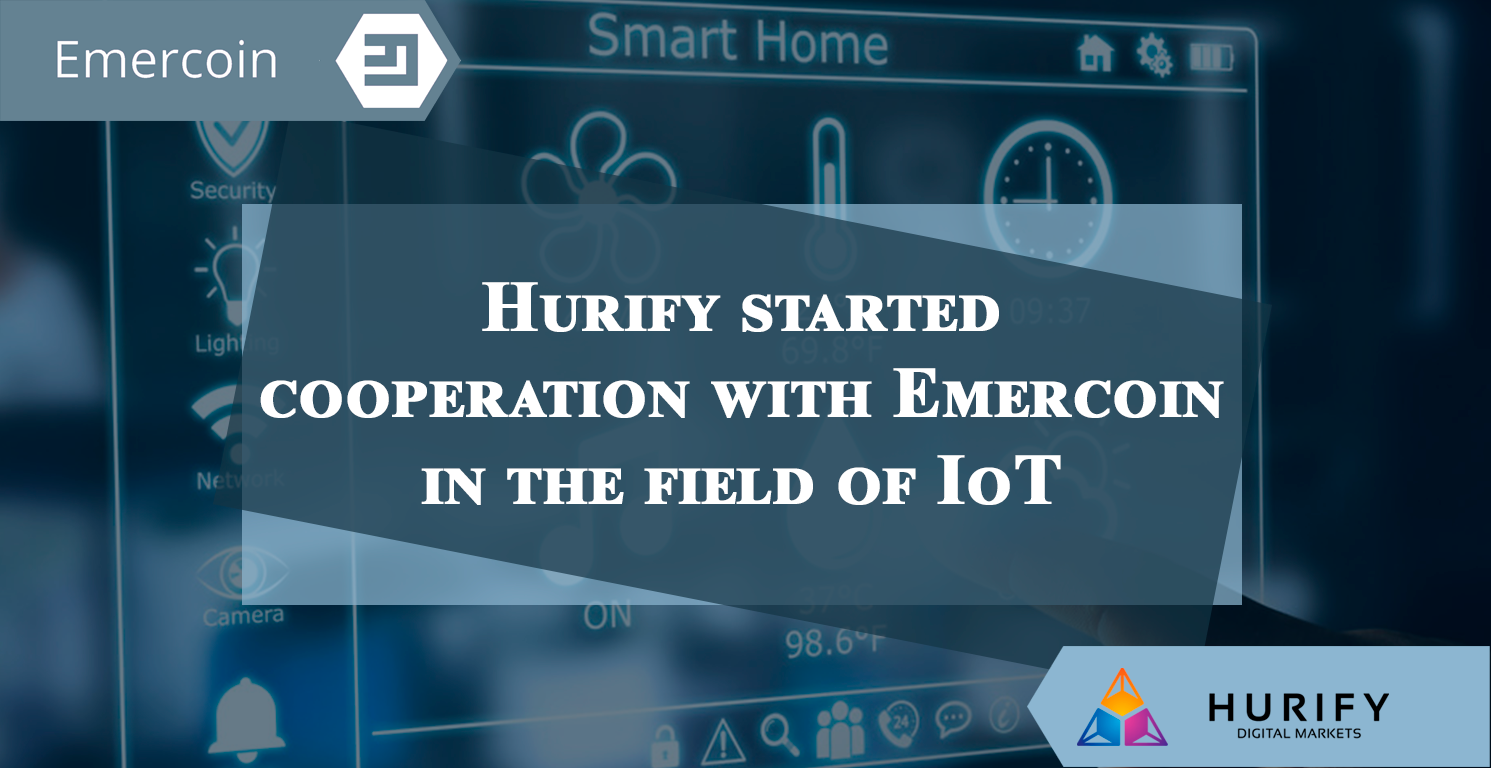 Hurify would leverage the strong security capabilities of Emercoin blockchain with this licensing agreement to integrate an array of vertical solutions available with Emercoin for IoT applications.
1. EmerSSH - secure shell management system needed devices.
2. EmerDNS - uncensored and unstoppable domain name system, peering with OpenNIC
3. EmerSSL - system for passwordless authentication of devices.
4. EmerTTS - trusted storage for digital timestamps on the blockchain.
5. Magnet - distributed tracker for file sharing.
6. EmerDPO - digital proof of ownership solution for devices.
7. Randpay - high-scalable micropayment system, based on random payment aggregation.
8. ENUMER - decentralized directory for telecommunication services.
Oleg Khovayko, Chief Technologist at Emercoin, said, "We're looking forward to working with Hurify to adopt Emercoin blockchain products into Hurify IoT ecosystem. IoT & Blockchain applications are evolving rapidly, and we are glad to partner with Hurify to scale our products."
Security is always an overlooked element of blockchain technology. However, security is baked into the core design of blockchain technology. Hurify and Emercoin's partnership is making it easy for IoT developers to integrate security as part of their development process. Since the device security elements are stored on the blockchain, IoT applications providers can directly leverage the build-in decentralized security aspects.
"We are looking to leverage the strong decentralized security products of Emercoin blockchain for IoT applications to help our partners and clients," said Mouli Srini, CEO, and President of Hurify Digital Markets. "We now have a much more robust device security solution with Emercoin integration to handle device security, identity; value management, and data monetization. Hurify Blockchain Consultancy Services will help our clients to scale these technology integrations to secure their IoT applications."
About Emercoin
Emercoin is a blockchain platform and emerging leader in secure, distributed blockchain business services. Emercoin uses a "supermarket approach," based on the idea "many services on the single blockchain." Distinctive features include high reliability, robustness, and 3-in-one hybrid consensus (PoW+MergedMining+PoS). The interoperability of blockchain technologies provides Emercoin a holistic view that is used effectively in solving both real and virtual world problems. Emercoin is introducing a new kind of blockchain that offers a wide range of services and solutions across all industries.
About Hurify
Hurify has IoT Marketplace platform powered by Smart Contracts & builds comprehensive blockchain systems for the enterprise Internet of Things (IoT) solutions. Its platform, software, and services allow IoT devices to securely interact with and transact with a distributed ledger technology such as a blockchain. Hurify Digital Markets, Inc has its headquarters in Redmond, WA with affiliate offices in Vilnius (Lithuania) and in Singapore.
Hurify brand and the Hurify logo are registered trademarks of Hurify group companies in the U.S.A. and other countries. All other trademarks mentioned herein are the property of their respective companies.