The Emercoin project has turned five!
In the highly dynamic crypto world, this is quite a respectable age. Before moving on, let's look back and reflect on what has been achieved.
It has been a fascinating journey, albeit one with several setbacks, durability tests, jolts, surges, and plunges. People came and went. We researched, experimented, and learned a lot — sometimes the hard way. There were attacks on our infrastructure and on the consensus mechanism itself, but I was always confident that Emercoin's well-designed technological core would ensure its sustainability in the face of any challenge.
Emergence is a path of infinite evolution and complication. And, since evolution necessarily involves numerous trials, we never cease trying. Importantly, Emercoin has managed to stay true to itself. Our long-standing vision of free software and a public blockchain, where anyone can unleash their creative ideas, paved the way for innovative and elegant blockchain applications and blockchain-based solutions.
In the past year we have switched — as promised — to a SegWit-compliant kernel 14.3, reduced the fee for creating blockchain entries, improved the built-in Internet domain name system, and enabled full CNAME support. Two months ago we successfully tested ATOM transactions, which allow direct asset exchange on the blockchain, in the main network. We've made a tool available — EmerAPI — to create them… more on that later!. Now, any non-monetary entities, such as web domains, promissory notes, or DPO records can be assigned an EMC value and exchanged without a middleman.
We still weren't able to revive the "advertising line," as represented by EmerLNX, a blockchain-based pay-per-click solution, but we'll keep trying. On the upside, we have built Randpay, a micropayment system that significantly reduces the load on the blockchain and allows unprecedented scaling to more than one trillion payments per year! Randpay's calculus is already complete and will be implemented in upcoming wallet versions.
There were also loads of infrastructure and kernel optimizations. And we added more improvements to the wallet's user interface this year than ever before.
Now for some specific highlights.
Solution of the year: Trusted Diploma
This is the most sophisticated and popular Emercoin-based product. The Tbilisi Business and Technology University (BTU) in Georgia was the first institution to make all their graduate diplomas blockchain verifiable. Thanks to its blockchain foundation, the solution is reliable, scalable, licence-free, affordable for any organization, and superior to any centralized solution.
Most importantly, the solution's engine is not only applicable in the field of education. It can be used in any relationship model where one party needs to guarantee the validity of data for another party. It could — and should! — already be used in medicine, law and construction.
Implementations
If you've been following our updated website, you'll know that there have been many. I will highlight three areas I find to be the most significant in terms of "aggregate value":
EmerNotar.io
Led by lawyer Alexey Konashevich, the project expands on the idea of notarizing digital documents of any kind using cryptography and blockchain. Unlike many similar initiatives, EmerNotar is not a pilot project but a business run by an experienced manager and his team. Notarization has never been so affordable and fast — just $0.10 and 20 minutes to have a digital signature printed forever in the blockchain. EmerNotar provides a mobile app and accepts payments via PayPal.
Emertech Antifake
Developed by Hong Kong company, Emertech, the Antifake project is also a working business that offers a turnkey anti-counterfeiting solution. Its co-founder, Denis Dmitriev, contributes greatly to the development of Emertech's infrastructure. He has developed the EmerAPI utility suite, which allows developers to easily integrate Emercoin-based technologies into their own projects. Work is underway to create EmerAPI libraries for all modern programming languages.
Web anonymity
The ENUMER decentralized service, which allows SIP users to make free direct calls without any service provider, has become more accessible than ever thanks to a partnership with Voip by Antisp, an ENUMER-enabled softphone for making free calls via the Emercoin blockchain. The project now also has its own website, enumer.org, including a simplified user manual.
The Trust Zone VPN Provider now offers its services for EMC. VPN is becoming an increasingly important service in today's world and will soon be a necessity for any cryptocurrency holder. You can find out more about this interesting initiative at trust.zone.
Economy
Emercoin wasn't spared from the general downturn in cryptocurrency capitalization, caused by the inevitable collapse of the ICO model — one we have explicitly warned about on numerous occasions. Emercoin's market value has shrunk threefold since the beginning of the year. But since we have never really been involved with ICOs, apart from occasionally consulting startups on technical aspects only, the ICO crisis had no impact on our fundamental assets. So real-world businesses now have a unique opportunity to cut costs for corresponding services or even to buy cheap coins for future use.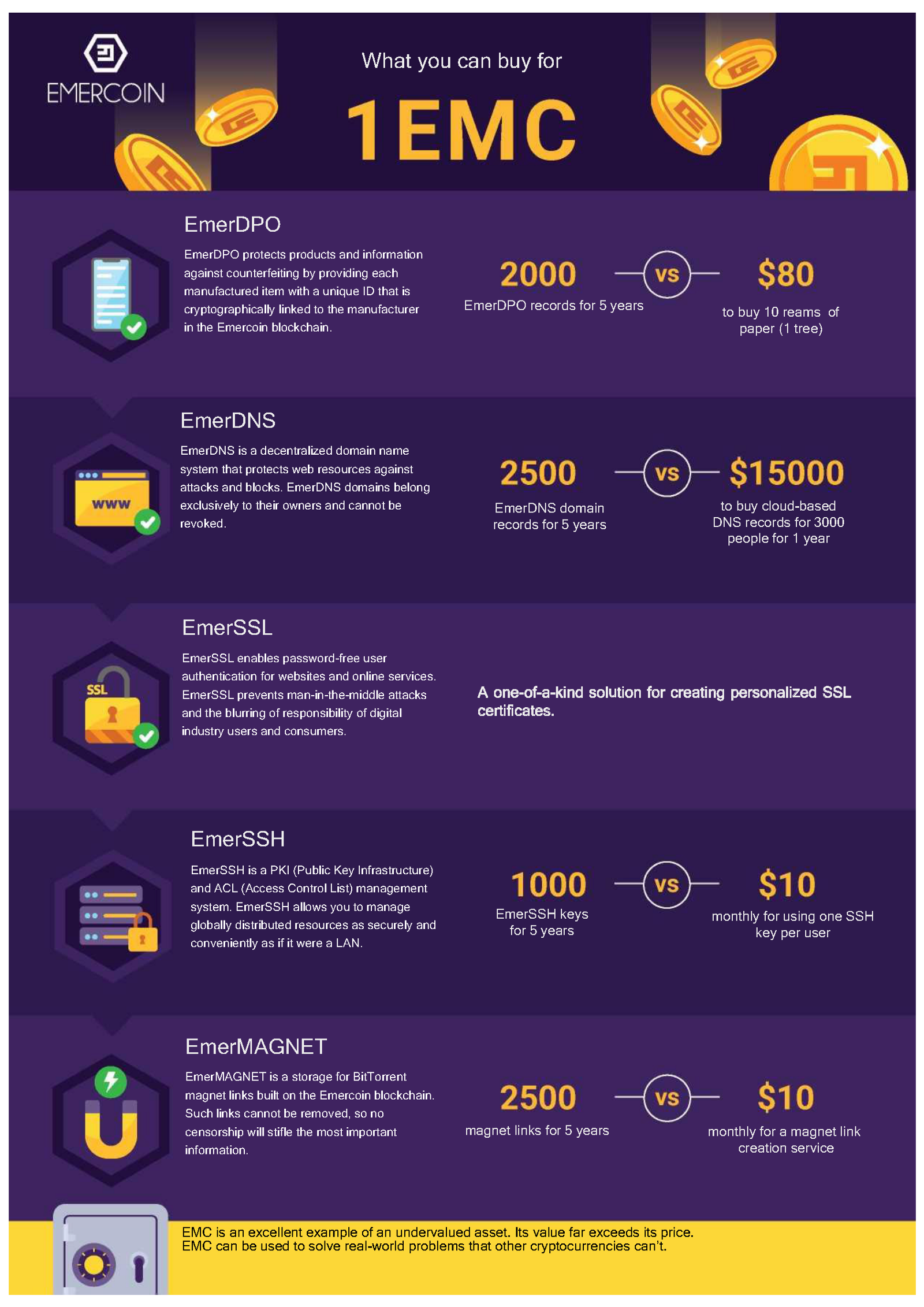 As for Emercoin, we will continue developing technologies and economic models, expanding the basis for the future economy with popular services. For example, DeNet is already planning to use our future Randpay technology in its project.
The future
We will strive to adhere to the roadmap posted on our website. Even if something extraordinary happens in the crypto world, we will keep developing the project core, improving it, refining the user interface, and trying out new ways of interacting with markets, industries, and economies. As I see it, the next breakthrough will likely come from a growing number of independent teams interested in the success of their own projects based on the Emer technology. Even though such teams are currently not many, they do exist, and the total number of people involved in them already exceeds that of Emercoin's own developers.
I am immensely grateful to our team for their hard work throughout this time! Thank you, my friends, for these five fruitful years!
And thank you, our dear Emer network users, for being with and believing in us!