Changes in the technological world have long-reaching influence across industries and disrupt long-established rules, operations, and tools. Business is always adapting to the evolving customer expectations and competitive threats due to new digital-savvy entries. The blockchain is yet another technology that can make revolutionary changes in business operations.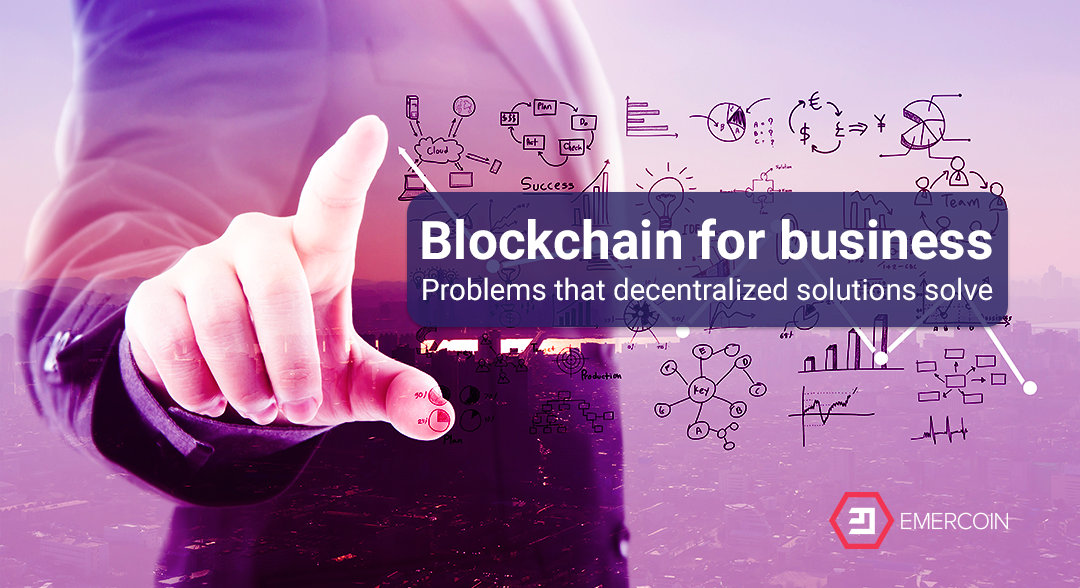 Although blockchain is associated with Bitcoin and cryptocurrency, the financial sphere is not the only industry that can benefit from its deployment. The blockchain is an unbroken sequence of blocks that contain information about transactions. It is maintained and shared over the network of distributed computers, but the data is encrypted for security. Stored records can't be updated without the change of subsequent ones. This feature allows ensuring trust and eliminating fraud and falsification of data.
Challenges that companies face
The rapid changes in the world dictate the way companies need to follow to stay competitive, efficient, and law-abiding. New regulations and threats appear every day and can lead to the downfall of any business.
Theft of information
Information is one of the most crucial assets that a company holds. Organizations collect and store a plethora of data that requires protection and management. Theft of information often poses a high-security threat. According to IBM's 2018 Cost of Data Breach study, the average cost of a data breach is currently $3.62 million globally, which comes to $141 per record and varies from country to country. The number of data breaches is soaring. Mymoid states that 3,437 records are stolen every minute, and Verizon reports that in 7% of the cases, breaches go undiscovered for more than a year.
Consequences dramatically worsen for a company when a data breach occurs in a database of customer or user personally identifiable information. GDPR (General Data Protection Regulation) has stringent rules about protection of user data. The fine for a data breach is €20 million or 4% of annual turnover. The regulations apply to all European Union. Any business that provides citizens of the European Union with services must be GDPR compliant.
Medical records are a good example as they are ten times more valuable than data of other industries. It makes the healthcare industry an enticing target for hackers. In 2016 alone, there were nine times more medical than financial records breaches – 27 million – representing nearly 10% of the U.S. population. An average health record contains vital information (birthdates, social security numbers, payment data, etc.) about a person that allows to steal an individual's identity completely and commit medication, financial and insurance fraud, as well as other crimes.
Even with a security system in place, a single drawback in a central network can result in a hacker gaining access to the information that can pose a devastating blow to the company.
Counterfeiting
Manufacturers, software companies and other businesses, as well as consumers, suffer from counterfeited and pirated goods all over the world. According to OECD & EUIPO research counterfeited products amount up to 5% of all EU imports, worth up to €85 billion. Counterfeited products are around 2,5% of global imports and are worth around $461 billion a year. Because of counterfeiting businesses lose billions of dollars, and up to date, no technology could make them counterfeit-resistant.
Lack of trust and transparency
Global businesses become more and more interconnected. And in the world when finances, software development and maintenance, and other operations are transferred to outsourcing, trust is important as never before. Openness, honesty and in particular transparency are essential to building trust.
Transparency in finance, supply chain, manufacturing, etc. is essential for the growth and prosperity of a brand. According to a Concerto Marketing Group and Research Now survey, 83% of consumers are likely to recommend a trusted company to others, while 82 percent will stay loyal to the brand.
Track and Trace of products
Manufacturers that supply products and goods need to keep and manage information about deliveries, services, and money. Many retail companies suffer from suppliers who sometimes deliver low-quality products or don't adhere to the standards of shipping operations. As a result, the reputation of a supplier is tarnished and its competitiveness decreases, and the company that made the order sustain losses and may even break the partnership.
Reliable track and trace systems are important for many industries, including foods and beverage, spare parts, clothing, furniture, etc. They help companies to get real-time insights into the availability of materials and products to reduce supply chain risks and optimize costs.
These and many other challenges put a threat to the efficiency, transparency, profitability, and compatibility of companies all over the world. They have to adjust to new demands of modern, technology-savvy world quickly.
Upgrade operations or fall behind
The ever evolving technologies put companies under pressure. According to an article by Deloitte 90% of organizations are not prepared for new digital trends and disruptive technologies. To ensure competitiveness and provide clients with the exceptional service they need to keep infrastructures up to date. They put efforts and money into the development and adoption of innovative technologies.
Not to lag behind in terms of innovativeness companies continuously increase spending on technologies. According to the latest research conducted by Gartner Inc., worldwide IT spending is projected to total $3.7 trillion in 2018. It will show the increase of 6.2 percent from 2017. Enterprise software spending is forecast to experience the highest growth in 2018 with an 11.1 percent increase and continue it in 2019. Enterprises try to adapt to the challenges they face on the day-to-day basis.
There is no doubt that companies can benefit from implementing blockchain. IBM study surveying over three thousand executives has shown that at least 80 percent are actively using or planning to implement some aspect of blockchain technology into their everyday business operations.
Blockchain is not only a buzzword. It promises to increase trust, accountability, and transparency across your business networks. Blockchain enables companies to reinvent processes from data management to regulatory compliance.
The benefits decentralized solutions offer to enterprises:
- a company can to react to rising competition in the digital era;
- business easily establishes trusted partnerships and trusted relations with customers;
- it makes operations compliant with GDPR and other ever-changing regulations;
- blockchain helps protect the personal data of users and prevent cybercrime and fraud;
- it enables companies to create cost-efficient business networks without a central point of control;
- saves money on transactions;
- blockchain increases the transparency of business, strengthens its credibility and, as a result, it leads to increased sales and efficiency.
We need bold technology to change the world, be one step ahead of competitors and overcome the dangers that modern technologies bring together with innovation. Blockchain enables companies to reinvent processes
What Emercoin offers
Since 2013 Emercoin has created a wide range of decentralized software development kits (dSDKs). They can be used for fast and inexpensive development of blockchain services. Emercoin solutions will help to protect data, stop hacker attacks, prevent data breaches, ensure transparency, stop counterfeiting and solve many other problems.
You can find examples and use cases of how Emercoin blockchain can be used across industries here