Emercoin continuous to establish relations with the international community of blockchain specialists. Recently we had an excellent opportunity to visit two important events in the blockchain world.
From 5 to 7 of September, managing partner of Emercoin Kostiantyn Bigus spent in San Francisco, where two conferences were held. They gathered the best specialists in the field of the blockchain, as well as innovative companies and startups.
Crypto Finance Conference is an exclusive investor conference on cryptocurrencies and blockchain investments. TechCrunch Disrupt is an annual tech conference in San Francisco hosted by a famous American online publisher TechCrunch. These events provided us with an excellent opportunity to make new acquaintances, as well as to find potential partners. We had a pleasure to meet the representatives of such startups as Coinbase, the world's leading digital currency exchange, Y Combinator, an American seed accelerator, ConsenSys, a software development company that is leading the development of Ethereum ecosystem, Hyperledger, an open source projects created by Linux Foundation in 2015 to support the collaborative development of blockchain, and many more.
During the Crypto Finance Conference, the managing partner of Emercoin met with our advisor Bill Tai to discuss the state of affairs and strategic development.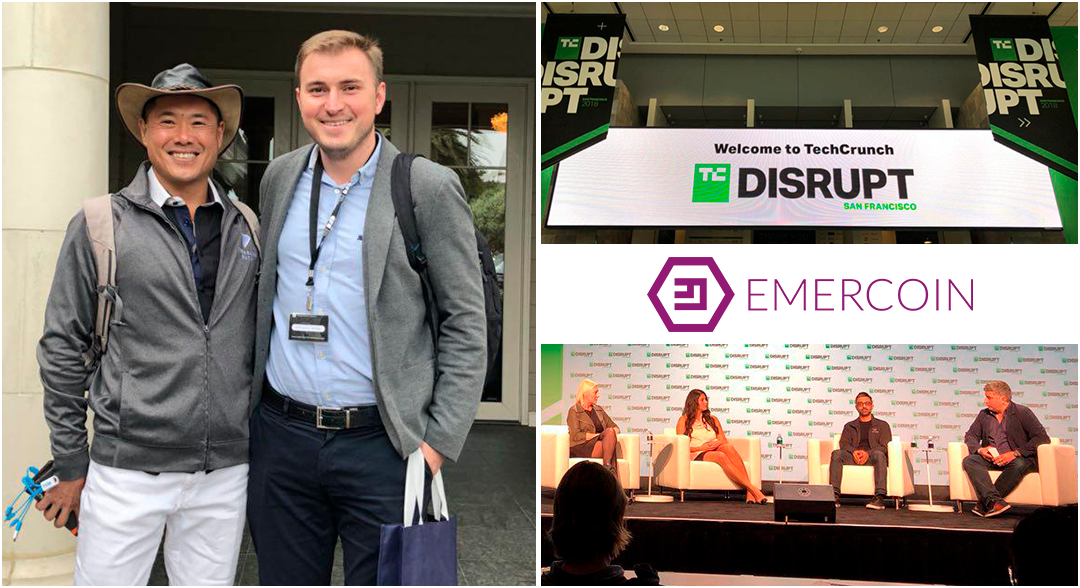 The use of blockchain in real businesses is of particular interest to Emercoin. We visit business conferences that help us to understand the main needs of different industries. In the sphere of blockchain, we attend top-of-the-range conferences, which allow us to maintain contacts with the global community of blockchain specialists.