Emercoin released a new update of Emercoin wallet. The version 0.7.3 contains a low-criticality vulnerability patch and code optimization. Also, GUI elements for an easy use of Trusted Diploma and Digital Proof of Ownership services were added.
The wallet can be updated in the Download tab on the official Emercoin website. The update is required, first of all, for users, whose services always function – exchanges, exchangers, and other RT-users.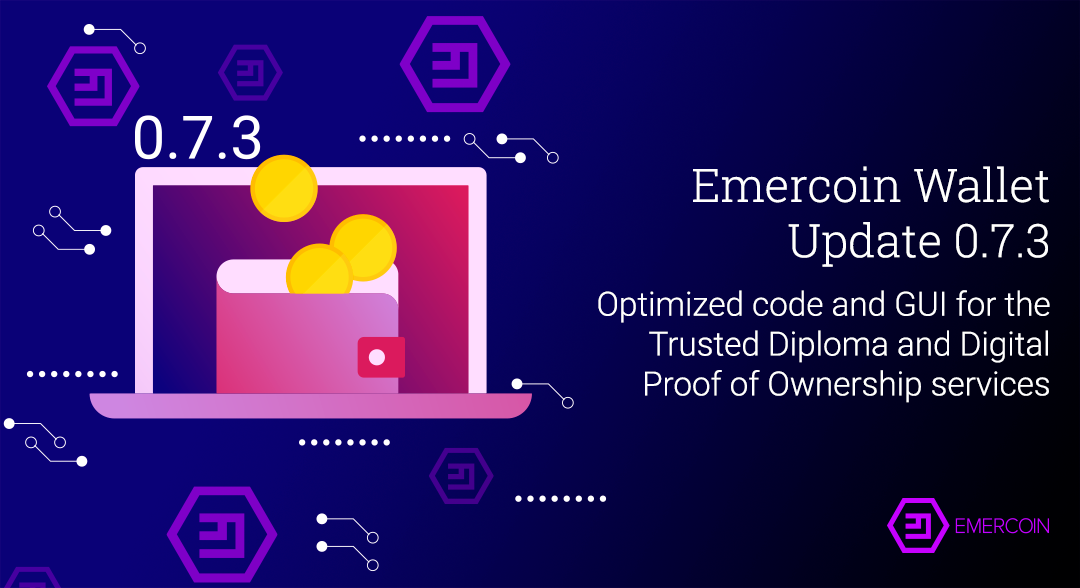 General list of improvements:
1) Fixed potential proof of stake spam.
2) Increased reindex speed significantly.
3) Added buttons for Trusted Diploma and Digital Proof of Ownership widgets in emercoin-qt
The binary files can be downloaded here:
https://sourceforge.net/projects/emercoin/files/0.7.3/
https://github.com/emercoin/emercoin/releases
Instructions for the compilation from the source code:
git clone [email protected]:emercoin/emercoin.git
cd emercoin
git checkout tags/v0.7.3emc
./autogen.sh
./configure --disable-tests
cd src
make
Important: The new wallet version re-indexes blockchain after the first start. It takes about 15 minutes, so you do not need to worry about it. All you have to do is wait.