Trusted Diploma service is designed to address one of the overriding problems of the modern world – counterfeit of diplomas and other educational certificates. Educational institutions can use it to create records on the blockchain for the storage of data on all issued diplomas.
The platform is built on the blockchain. NVS service stores all data on the blockchain in name-value form. Utilizing distributed trust, the data is protected from unauthorized changes, deletion, and addition. Only the owner of a private key can add data on behalf of a university.
Previously only Emercoin wallet was used to add records about issued diplomas and verify their authenticity. Such a method was difficult to use for many users. So we've created EmerCert app with a user-friendly graphic interface.
After installing the program, you will see several tabs. Trusted Diploma is used for diplomas verification and registration, as well as for the registration of a university.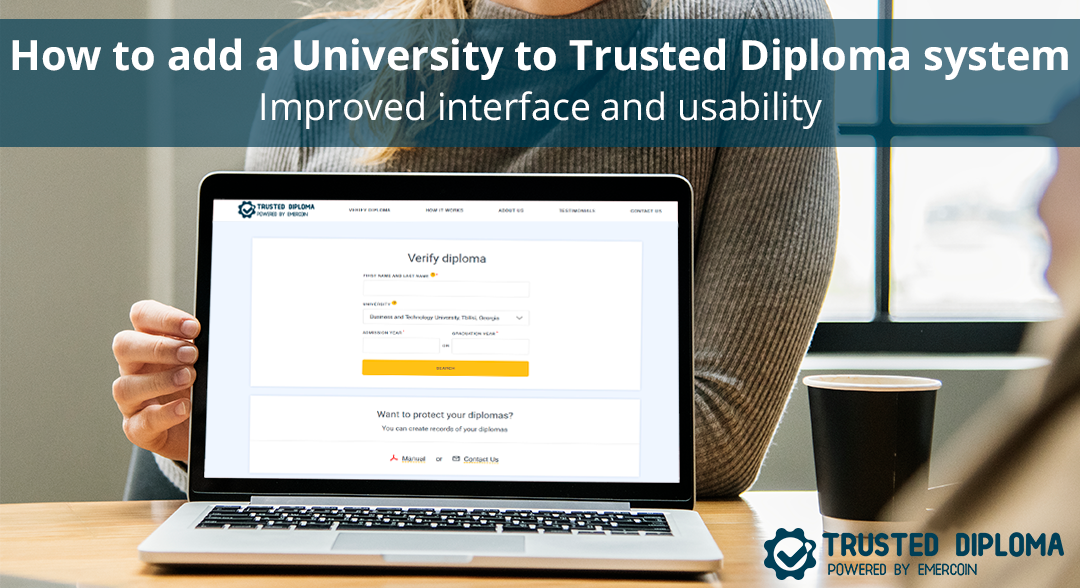 Adding a new university
Register university tab allows adding a new university to the system. A user needs to enter the name of the university, its abbreviation, website, email address, telephone number, as well as other relevant information. The program automatically transforms the data into the format used by Emercoin wallet. It should be copied to the wallet and entered in the Manage Name tab in the wallet.
EmerCert program simplifies the interaction of users with Emercoin blockchain. Its features are not limited to Trusted Diploma service and can be used to manage EmerSSL certificates, InfoCard data and DNS names.
Diploma Verification
Check Diploma tab is used for diploma authenticity verification. In the First name and last name field, the name and surname of the person are entered in Latin characters, University field requires a name of the university and in the Year of submission field, you have to choose the year of submission or graduation from the university. Clicking on the Check button redirects you to the Trusted Diploma site, where a search is conducted in the blockchain and information about the diploma is displayed.
You can view the full user guide here.